Gorgonia 1997+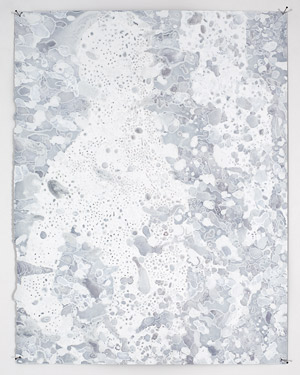 Gorgonia, 2000/2010
correction fluid on magazine page
285 x 221mm
private collection Sydney
Gorgonia
The Gorgonia works-on-paper date from the period 1997 to 2011. Two dozen of these sheets spanning the period 2000 to 2006 were exhibited at the Monash University Museum of Art, Melbourne, in Before the Body - Matter (2006/7-group). A number of these sheets were acquired by the MUMA and have since then been included in the group exhibitions Monash University Collection: A selection of recent acquisitions (2007/8) and Plus/Minus (2009).
Other showings of the Gorgonia works include: knell dobre glas, Galeria Quadrado Azul, Porto (2012-group), Christian Capurro, Agatha Gothe-Snape, Debra Phillips, Breenspace, Sydney (2011-group), More Love Hours Than Can Ever Be Repaid, Finekost, Berlin (2009-group), Leave No Trace: Ridges, Troughs and Phantom Limbs, International Studio and Curatorial Program gallery, New York (2009-group), Gorgonia, Studio 12, Gertrude Contemporary Art Spaces (2003-solo), After the deluge, corrections, Temple Studios (1999-solo) and Capurro, Ellis, Hutchison and Parsons, First Floor Artists and Writers Space (2002-group).
The Gorgonia are correction fluid on erased magazine pages, posters and photographs. Like the Compress works they are generally presented unadorned, pinned to the wall.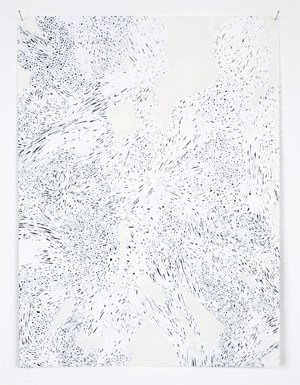 Gorgonia, 2005/6
ink, correction fluid, erasure, magazine page and pins
approximately 310 x 220mm
collection of Monash University Museum of Art
Links to Gorgonia pages on the website:
Gorgonia, 2004
ink, correction fluid, erasure, magazine page and pins
approximately 310 x 220mm
private collection Rome