Jonatan Habib Engqvist
Pensa con i sensi - Senti con la mente. L'arte al presente / Think with the Senses - Feel with the Mind. Art in the Present Tense
'Off-Site' Talk, June: Treviso
Jonatan's talk at this year's Venice Biennale, entitled Actively Forgetting - Untimely Meditations on a Misspent Portrait, is part of the 'off-site' component of the Another Misspent Portrait of Etienne de Silhouette project in the exhibition Think with the Senses - Feel with the Mind. Art in the Present Tense. This site-specific reflection about forgetting, seeing, and creativity will take place on Sunday June 17th at 3.30pm in Treviso.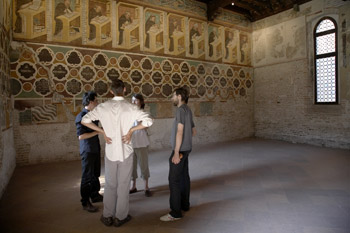 Sala del Capitolo dei Domenicani
Chiesa San Nicolo, Treviso
The talk is being presented in proximity to Tomaso da Modena's fresco cycle in the Sala del Capitolo dei Domenicani, Chiesa San Nicolo, which depicts forty illustrious monks of the Dominican order engaged - intently and/or absentmindedly - in different moments of the activity, labour and devotion, of transcribing/reading/correcting manuscript texts. The talk will be in English with an Italian translation.
A transcript of the talk is posted here.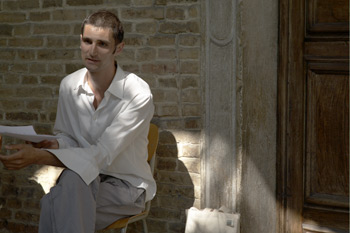 Jonatan Habib Engqvist talk
Sala del Capitolo dei Domenicani 17.06.07
Born 1973 and living in Stockholm, Jonatan has a MA in Philosophy and Aesthetics and is a board-member of the organization ICE (Informal Constructions and Economy).
He frequently writes and lectures on topics relating to philosophy, art and architecture and is involved in several practice-based research projects. He is currently engaged in a project concerning psychedelic art and culture at the Royal University College of fine Art in Stockholm, an upcoming book about informal architecture and economy based on a case-study in India, and has recently co-edited an issue of the Swedish journal Ord&Bild (Word&Image) on the theme "Capitalism as Religion".
email:
jonatan[at]philosophy.se