Sketch-in Protest @ the National Gallery of Victoria
Update: June 2012
During these unfortunate episodes we've heard numerous official reasons given by the NGV for the restriction and/or banning of sketching and note 'taking' in some exhibitions (including; on the grounds of insurance clauses, intellectual property or copyright protection, the demands of lending institutions, public safety and, even, an inadvertent consequence of the errant and unauthorized actions of some low-level staff), along with a fascinating, slightly ludicrous but (if true) worrying whisper that catalogue sales were thought to be under threat if people where able to 'take' their own records and impressions of the show away with them.
In a blow to the notion of an inclusive cultural institution, accompanying the most recent interdiction at the NGV was a galling new 'accommodation' to note 'taking' whereby, while banning cheap, trusty and compact pencil and paper, the Gallery would allow the use of iPads. (A bald-faced, aspirational nod to the most welcomed demographic perhaps?) Anyway, the next time you visit the NGV take a moment away from the visual enticements on offer and close your eyes. If you listen carefully enough you may just catch the last gentle rustlings of carbon on paper beneath the dull thap-and-swipe of greasy digits on 'smart' touch screens: Crowds permitting, of course.
What have we learnt? Until the NGV takes a firm, consistent stand against the encroaching and pernicious ring-fencing of the public's engagement with the works of art they borrow for exhibition, it will be up to us to stay vigilant and to continue to hold them to account, Winter Masterpiece after Winter Masterpiece.
Update: May 2012, "pencils only, crowds permitting"
"NGV scrambles to amend and defend its no-paint, no-sketch rules"
A groundswell of anger about its restrictions on visitors sketching, painting or even taking notes has the gallery scrambling to amend and defend its guidelines. And a group of eminent local artists has joined a campaign to persuade those in charge to throw open its doors freely to those who want to paint before its great works...
The gallery also revised several similar prohibitions on its Fred Williams retrospective yesterday in response to a public backlash. Several recent letters to The Age have detailed visitors being advised that sketching or writing notes was forbidden.
Gina McColl, Arts Editor
The Age Newspaper
16 May 2012
Update: April 2012, Sanity GONE (Again)!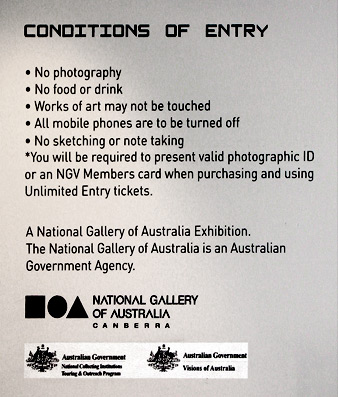 For a blow-by-blow account of this ongoing fiasco see this wonderful blog:
(Oh Gerard, I guess you thought that you'd be out of there before anybody noticed such backsliding - WRONG - or, worse still, that no one would care enough to hold the NGV to account - WRONG AGAIN.)
11am Silent Protest NGVi
Update: June 2005, Sanity has Prevailed!
We will now be able to sketch or take notes in the Dutch Masters from the Rijksmuseum, Amsterdam exhibition @ the NGV this winter (as long as it's not too busy).
As you may be aware the free pencil movement mobilized last December to protest the widespread harassment of sketchers and note-takers at the National Gallery of Victoria. This public action, supported by many in the community, led to the NGV management re-evaluating both their practices and their policy in this area which, they acknowledged, were found wanting. As a result of this review the gallery made a public commitment that "sketching and note-taking is permitted and actively encouraged in Temporary Exhibitions and in the Permanent Collection areas of the NGV". However, with this policy "subject to the discretion of individual or institutional lenders" it didnt take long for it to raise its ugly head.
When it became clear during a conversation with the Director of the NGV, Dr. Gerard Vaughan, on Radio National's The Deep End Program (15.12.2004) that, due to contractual obligations, restrictions on sketching and note-taking would be in place for the 2005 Winter Masterpieces show Dutch Masters from the Rijksmuseum, Amsterdam, we pressed for and received a commitment on air that the gallery would work to have this miserable restriction removed.
We can gladly announce that with confirmation from the Rijksmuseum that this was not a clause or prohibition they had imposed on the loan of the works for the show, the NGV in conjunction with Art Exhibitions Australia - who manage with Federal Indemnity Australia this and other major touring shows - have seen the light and decreed "in-principle" that sketching and note-taking will now be permitted in the Dutch Masters from the Rijksmuseum, Amsterdam, exhibition. Their only, not too unreasonable, proviso is should there be very large crowds on a certain day they may need to apply restrictions to avoid possible risk to other visitors or any potential damage to artworks.
So with pencils in hand (not too sharp and remember, pencils not pens, please) we can now confidently look forward to a harassment free encounter with 'The Golden Age' of 17th century Netherlandish art, but, still with an sharp eye to future encroachments that attempt to circumscribe just how we go about relating to this stuff deemed Art.
free pencil movement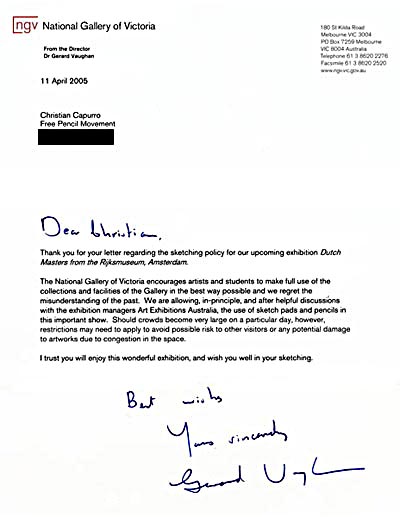 Update: 15 December 2004 on the Sketch-in Protest, 2.30pm NGVi (Munch) & NGVa (Gleeson) 10.12.04
The response to our call to support the Day of Protests @ NGV was overwhelming and the protest a great success.
We estimate around 100 protesters took part in either the Friday morning performance outside the NGV International or the afternoon sketch-in at both NGV venues. We also received messages of support from at least that number again, from people who were unable to attend on the day, including curators and directors from a number of state and regional art galleries.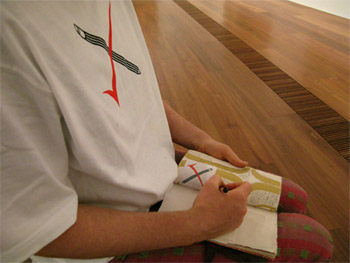 2.30pm Sketch-in Protest, James Gleeson exhibition, NGVa
The free pencil movement grew out of the frustration and anger a few artists felt at being prohibited from sketching and note-making at NGV exhibitions this year (The Impressionists, Edvard Munch and James Gleeson). It was soon realised that many other gallery visitors, including artists, scholars, students and members of the general public, had also been prohibited from sketching or note-making and felt similarly aggrieved.
The NGV has now publicly acknowledged this was a problem of their making brought on by poor internal and external communication of their actual policy regarding the use of pencils and pens in their various pay-to-see exhibitions. The NGV now says that The Impressionists exhibition is the only show at which visitors were officially prohibited from using pencils or pens; and that this was for insurance reasons beyond the gallery's control. From the personal testimonies we've received, however, it would seem this has been a point of public irritation long before The Impressionists show. Since then, apparently unbeknown to the directors, Venue Management and the security staff have continued to impose this restriction more-or-less throughout the entire NGV. Even in the last few weeks, wall signs making this prohibition explicit were still being pointed out to disgruntled patrons at NGV Federation Square.
We were protesting about the reality of the situation as experienced by many individuals. The prohibitions were being enforced, sometimes in the name of security, sometimes for insurance reasons and, most worryingly, sometimes on copyright grounds.
In the week preceding the protests, the director of the NGV, Dr Gerard Vaughan, called a special meeting of the Trustees to review this policy. The day before the protests he faxed to us a copy of the new rules and a letter of overall support for our position. ("In principle I agree with your concerns and I agree with your position.") The NGV has now communicated this clarified policy to all their staff. Their policy can be viewed at http://www.ngv.vic.gov.au/policies/sketching.html (link updated May 2012).
The day of protests at the NGV was intended to focus national attention on one specific prohibition, as well as to raise awareness of other associated issues, in order to have the 'No Sketching' prohibition removed. Thanks to the quick and positive response of the NGV leadership, this has now largely been achieved. On Friday no one was stopped from writing or sketching and many of us felt it was a wonderful simple thing to behold. All three NGV directors (Gerard Vaughan, Tony Elwood and Frances Lindsay) personally greeted and Peter Tyndall inside the Edvard Munch exhibition. Dr Vaughan concluded his letter of the previous day, "I hope that the document I attach (the new policy), and the statements we made yesterday to the press, have clarified the matter. I want you to know that I personally believe that one of the reasons we exist is to inspire and assist practising artists, students and scholars. We must do nothing that inhibits their optimum use of the collections of the NGV."
However, there still remains the outstanding issue of the obligations imposed upon Australian host galleries, such as the NGV, by Art Exhibitions Australia, who manage Federal Indemnity for major imported exhibitions such as The Impressionists. It is this federal body which imposes the "no pens, no pencils" rule. As we understand it, another winter blockbuster indemnified by Art Exhibitions Australia is due for exhibition at the NGV in 2005. So, even though visitors are presently free to sketch and make notes in all exhibitions at the NGV, when next year's blockbuster arrives the NGV will again be forced by these federal regulations to re-impose this miserable restriction. Again, this will surely cause disaffection.
The free pencil movement will now encourage Australian host galleries, such as the NGV, not to accept any AEA indemnified exhibitions that impose this restrictive clause against the use of pens or pencils, no matter how marvellous the art offered. We believe these conditions are against the spirit of free speech and are an insult to the regular visitors who, otherwise, are now to be trusted with their pens and pencils in the presence of our own national collections of great works of art. We will also lobby the AEA to reconsider and remove this restriction. Please do likewise. Write to the AEA and to the Federal Minister for the Arts and demand this clause be removed. Not to do so, as we see it, is to acquiesce to the present culture of fear and prohibition.
Thank you to all who provided support of any kind. It was greatly appreciated.
free pencil movement
"Man is born free; and everywhere he is in chains."
Jean-Jacques Rousseau
The Social Contract (1762)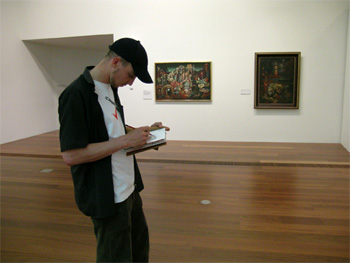 2.30pm Sketch-in Protest, James Gleeson exhibition, NGVa
Invitation to a Sketch-in Protest @ National Gallery of Victoria (NGVi & NGVa) Friday December 10, 2.30pm
The National Gallery of Victoria now prohibits all forms of sketching and notemaking in its pay-to-see exhibitions. And it vigorously enforces this prohibition. Artists, art students and others making any form of notation in these exhibitions are approached by NGV security personnel and told they must stop.
General consensus among artists, art students and others affected by this miserable rule is that it is "absolute bullshit".
Artists, art students and others are planning a protest against this NGV 'No Sketching' madness. ("See something in Melbourne to really scream about." NGV International advertisement, 'The Australian', 4 Dec. 2004)
The protest will take the form of a sketch-in.
Please join us.
We are asking that protesters arrive individually and quietly, buy a ticket (sorry about that, another issue for another day: why, for instance, was the Colin McCahon show free at the Art Gallery of NSW and pay-to-see at the NGV) to either the Munch exhibition (NGV International) or the James Gleeson exhibition (NGV Australia), and enter the exhibitions. Arrive and be inside well before 2.30pm. Enjoy the work, or not, as the case may be. Should you happen to bring with you a small pencil and notebook, perhaps in a pocket, at 2.30pm the sketch-in begins.
At the appointed time, each of us will take out a notebook and pencil, and begin making whatever sketches or notes we feel inclined to jot down. Whether this be sketching, copying, reviewing, information gathering (copying information from NGV labels in these exhibitions is not permitted), doodling, creating original art or just adding to one's Xmas shopping list ... just behave normally. That is all we are asking to do.
Don't block others' access to the artworks. Don't give the NGV authorities any justification for their present shameful behaviour.
There is not going to be a march to the barricades or similar mass arrival. When artists arrived to protest against NGV treatment of artists' rights in 1975, they found that the NGV had closed off all its galleries of Australian Art. Maureen Gilchrist reported in 'The Age', (Local artists call for better deal, 22 August 1975), "Before the meeting National Gallery staff stripped the walls of the Australian gallery of most of its paintings in case of violence. But the gathering was peaceful."
Bring a friend. Bring your family. Pass this invite on. See you there.
free pencil movement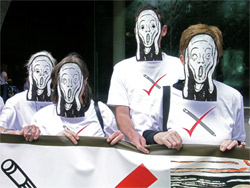 11am Silent Protest NGVi