Tom Nicholson VB07
Pensa con i sensi - Senti con la mente. L'arte al presente / Think with the Senses - Feel with the Mind. Art in the Present Tense
'Off-Site' Talk, June: Venice
Tom Nicholson begins his site talk Actions Towards the Image by setting Christian Capurro's Another Misspent Portrait of Etienne de Silhouette against Tieoplo's two great paintings of Antony and Cleopatra, and specifically against the relationship between the oil painting in the National Gallery of Victoria in Melbourne (where Capurro's project originates) and the fresco version at Palazzo Labia in Venice (where the site talk takes place). He also discusses how the project articulates a relationship between an action and its trace, describing this relationship in terms of both the history of performance art and principles of drawing. Tom will present the talk once in English and again, later in the day, in Italian.
A transcript of the talk is posted here.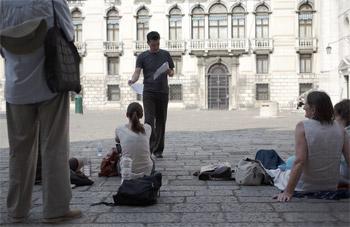 Tom Nicholson talk
Campo S. Geremia 10.06.07
Born in 1973 in Melbourne, Australia, where he currently lives and works.
Nicholson's work has been exhibited in recent group exhibitions such as System Error: War is a force that gives us meaning at the Palazzo delle Papesse in Siena; Zones of Contact, the 2006 Biennale of Sydney; Transversa at Galeria Metropolitana in Santiago, Chile; The body. The ruin at the Ian Potter Museum of Art; and Ghosts of Self and State at the Monash University Museum of Art in Melbourne, where he is also currently participating in the show Regarding Fear and Hope.
Recent solo exhibitions have taken place at Plattform, in Berlin, and at Anna Schwartz Gallery and Ocular Lab in Melbourne. Tom is a lecturer in Drawing at the Faculty of Art and Design at Monash University and a member of Ocular Lab. He is represented by Anna Schwartz Gallery.
For further information see www.tomn.net